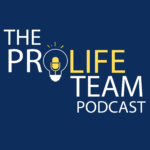 Listen to the National Director of Priests for Life, Frank Pavone along with Michael Cousineau, philosopher and pastor, as they discuss philosophical questions surrounding life and abortion in this engaging podcast episode recorded October 17th, 2022.
Backstory on Michael Cousineau:
"Michael is one of my beloved pastors at The Village Church in Tucson, AZ. He is very experienced in the area of philosophy and considering ideas intellectually." – Jacob Barr, The ProLife Team Podcast Host
Video Version: https://youtu.be/TXPLQsAaXMk
Sign up for email notifications when new episodes are published.
Our sponsor for this episode is iRapture.com.