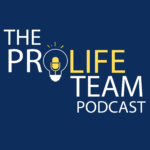 Listen to Tessa Longbons and Jacob Barr talk about data surrounding abortion the spell out the story of how pregnancy clinics are making a huge impact for life.  Also hear how this data is breaking down false beliefs that are promoted by Planned Parenthood.
Video Version: https://youtu.be/8rjqbFn3ZAQ
Sign up for email notifications when new episodes are published.