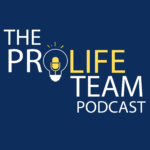 Listen to Susan Arnall and Jacob Barr talk several pro-abortion bills in California. This is helpful for those in California to encourage their community to vote. This is helpful for those beyond California to know how to pray and what to keep a lookout for.
You can see the current California bills here: www.prolifeadvocates.org.
Video Version: https://youtu.be/yeJVfC397LQ
Sign up for email notifications when new episodes are published.