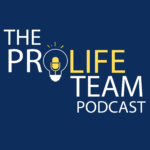 Listen to Jor-El Godsey, Peggy Hartshorn and Jacob Barr talk about The Power of Pregnancy Help. Jor-El & Peggy co-authored this new book. Hear about how this book captures the history of Heartbeat International and the prolife movement as a whole – as Heartbeat is connector amongst most prolife leaders across the globe.
Video Version: https://youtu.be/KCFYKlCzQ1s
Sign up for email notifications when new episodes are published.