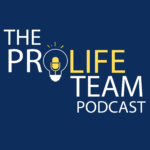 Listen to Jor-El and Jacob talk about the amazing growth that pregnancy clincs have acheived in america along with the need to continue to grow in locations, services, hours of operation and in the new online spaces – where abortion is being shipped from a virtual shopping cart. We hope you find encouragment and direction from this conversation. We feel honored to serve executive directors and pregnancy clinics as part of The ProLife Team who reflects God's heart, hands and feet.
Link to white paper being discussed: https://proliferibbon.com/wp-content/uploads/2022/02/PHCsRoomtoGrow.pdf
Job Opening Announcement at the very end off the podcast: https://irapture.com/employment/
Video Version: https://youtu.be/VNZgcWPLYFM
Sign up for email notifications when new episodes are published.