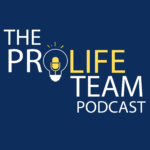 Listen to Amy Davis and Jacob Barr chat about The Peers Project and how it is helping prepare youth to be leaders in the prolife team universe by promoting healthy lifestyles and good life decisions.  Hear about how the high school students are embracing the program and teaching it to their peers.
Reach Amy at https://peersproject.org/contact/ to learn more.
Video Version: https://youtu.be/zdcOskqUDHE
Sign up for email notifications when new episodes are published.