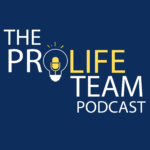 Listen to Cindy Lange, David Lange, Victor Lennartz and Jacob Barr talk about the Choose Life license plates in Idaho.  These license plates will be used to raise thousands of dollars for pregnancy clinics across Idaho every year – if they can get 1000 plates on the road by the end of this year.  Hear their story here.
Video Version: https://youtu.be/Gofc44OJkTM
Sign up for email notifications when new episodes are published.