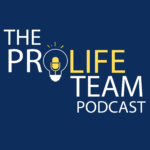 Listen to Amanda Tucker and Jacob Barr talk about Amanda's backstory into pregnancy clinic work along with how God has provided healing, blessings and answered prayer.
Video Version: https://youtu.be/heBTjGAJctU
Sign up for email notifications when new episodes are published.
Our sponsor for this episode include Heritage House, Patriot Insurance and iRapture.com.