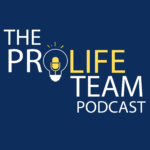 The ProLife Team Podcast 92 | Shawn Zierke & Jacob Barr | Talking About Ethical Marketing Words
Listen to Shawn Zierke and Jacob Barr talk deceptive marketing tactics and ethical word decisions around phrases like "Pre-Abortion Consultation".
Video Version: https://youtu.be/Y5OEtDmKPKI
Sign up for email notifications when new episodes are published.
Our sponsor for this episode include Heritage House, Patriot Insurance and iRapture.com.