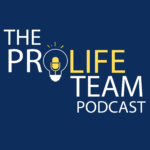 Listen to Lucy Smith and Jacob Barr talk about the stories that led to the formation of Pro-Love Tucson. Listen to stories that reflect a posture of love – reflecting God's mercy and grace in a kind way – inviting people to take courage and be stirred toward better life decisions.
Video Version: https://youtu.be/JkWtV6FiBEs
Sign up for email notifications when new episodes are published.
Our sponsor for this episode is iRapture.com.