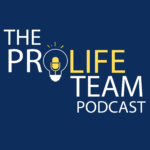 In this episode, we talk about Strategic Racism by Planned Parenthood Founder Margaret Sanger.
In a December 10, 1939 letter to Gamble, Sanger wrote, "We do not want word to go out that we want to exterminate the Negro population and the minister is the man who can straighten out that idea if it ever occurs to any of their more rebellious members."
The racist and eugenic seeds sown by Sanger are bearing much anti-life fruit in communities of color today. Listen to Arnold M. Culbreath explore these racist roots.
Take Action:
Share this with your pastor and with people who want to commit to help: https://www.dlinstitute.org/jeremiah/#sign
Citations:
Letter from Sanger to Gamble: https://www.supremecourt.gov/DocketPDF/18/18-1171/116542/20190920143641893_18-1171%20Amicus%20Brief%20of%20ISSUES4LIFE%20Foundation.pdf
Maafa 21 Documentary: https://youtu.be/I6XfU8KVkzI
Video Version: https://youtu.be/MfNjjQRtMYM
Sign up for email notifications when new episodes are published.